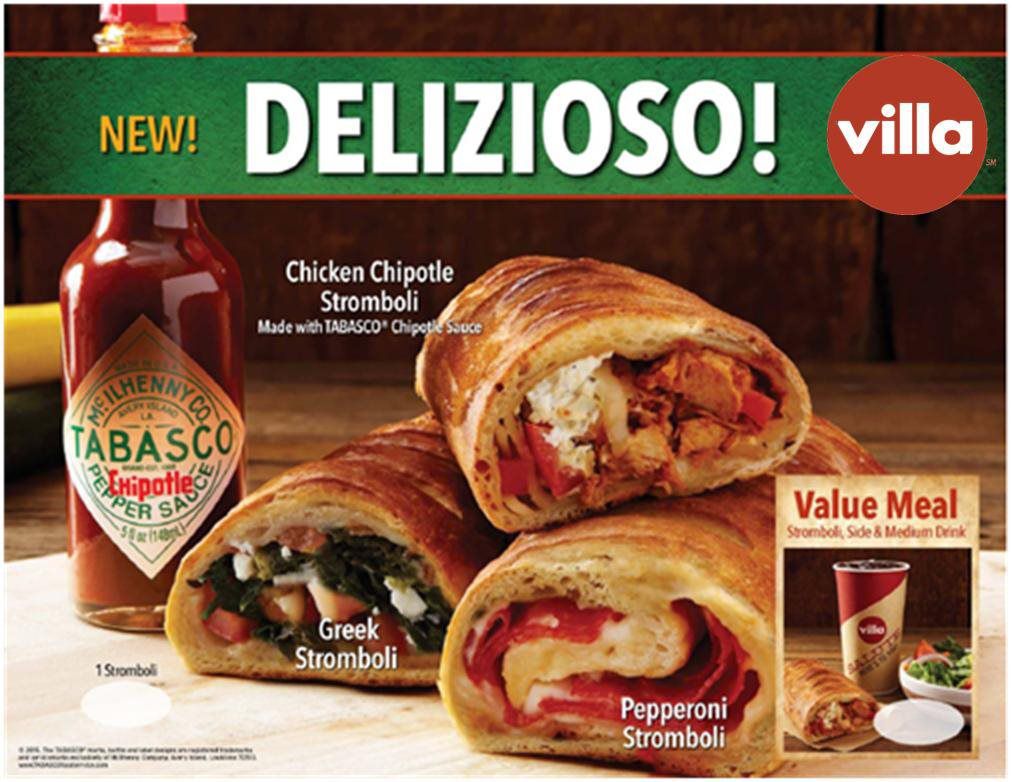 MORRISTOWN, NJ, October 15, 2015: Villa Enterprises Management announced today their Villa Italian Kitchen restaurants have introduced a new Chicken Chipotle Stromboli made with Tabasco Chipotle Sauce to their Stromboli menu, which includes their popular handmade Pepperoni Stromboli and Greek Stromboli, for a limited time 'delizioso' offering!
The new Chicken Chipotle Stromboli is made with fresh hand rolled dough, Tabasco Chipotle Sauce marinated chicken, 100% whole milk mozzarella, garlic, herbs and spices, along with diced tomatoes and onion, balanced with smoky heat and flavor. Guests can create a value meal with any one of Villa's popular handmade Stromboli, a side, and a medium drink.
"We've been serving our handmade Stromboli and pizza for 51 years now and our guests asked us to bring on some heat!" said Villa Enterprises' CEO, Anthony Scotto. "Now guests can enjoy our new Chicken Chipotle Stromboli with Tabasco Chipotle Sauce and spice up their taste buds with its delicious flavor!"
Villa Italian Kitchen features Neapolitan and pan pizzas, made daily with fresh dough, 100% whole milk mozzarella and homemade sauce. Villa's Stromboli along with Italian pastas and entrees make for a delicious lunch or dinner. Villa offers large to-go orders and catering, perfect for pizza lovers, family or events.
About Villa Enterprises
Villa Enterprises is a global multi-brand restaurant operator and franchisor. Founded in 1964 by Michele Scotto, a Naples, Italy native, Villa Enterprises, began as a small pizzeria next to the Ed Sullivan Theater in New York City. Today, Villa Enterprises is an international organization that recently celebrated its 51st year in business with nearly 400 quickserve restaurants in malls, airports, casinos and other high-traffic locations. Villa's QSR brands, including Villa Italian Kitchen, Villa Pizza, Green Leaf's Beyond Great Salads, Bananas Smoothies & Frozen Yogurt, South Philly Cheesesteaks & Fries and Far East, can be found across 40 U.S. states, Puerto Rico and nine additional countries. More information about franchise opportunities for these popular quick-serve brands can be found here. Villa also operates 12 full-service restaurants in suburban New Jersey under the 40North brand including The Black Horse Tavern & Pub, The Office, Steelworks Buffet & Grill, Piattino and George & Martha's. For more information, please visit www.villaenterprises.com